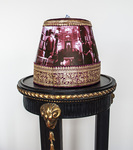 Red Fez: Boy, Woman, Byculla, Bombay
2012-15
Felt, silk, mixed media
8" x 24" diameter
Red Fez: Boy, Woman (Byculla, Bombay)
DETAIL
Boy under Bima (back view)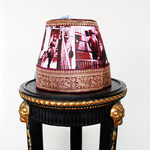 Red Fez: Boy, Woman, Byculla, Bombay
2012
Felt, silk, mixed media
The Fez as Storyteller: Magen David, Byculla, Bombay
Red Fez: Boy, Woman (Byculla, Bombay)
DETAIL
View: Stair to ladies upper gallery (left), Boy at bima (right)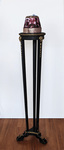 Red Fez: Boy, Woman, Byculla, Bombay
2012-15
Felt, silk, mixed media
8" x 24" diameter
Red Fez: Boy, Woman (Byculla, Bombay)
Side view, Boy under bima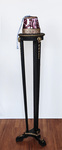 Red Fez: Boy, Woman, Byculla, Bombay
2012-15
Felt, silk, mixed media
8" x 24" diameter
Red Fez: Boy, Woman (Byculla, Bombay)
Back view, Woman at stairs/upper gallery (left) and Boy at bima (right);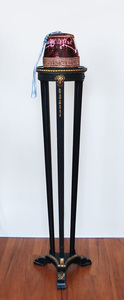 Red Fez: Boy, Woman, Byculla, Bombay
2012-15
Felt, silk, mixed media
8" x 24" diameter
Red
Fez
: Boy, Woman
(Byculla, Bombay)
piece is concerned with the traditional preference to males in older cultures and the consigning of women to second class stature, still prevalent today.
For full statement click
here
To scroll through cllick to the right of image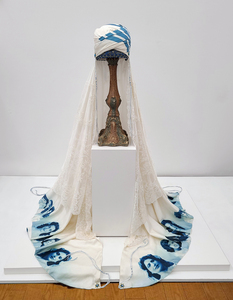 Turban Marriage Fez: To Have and to Hold
2017
Digital imagery, French lace, silk, trim, mixed media
48" x variable
Marriage Turban Fez: To Have and to Hold
features a traditional Mid-East turban (male headgear) adorned with a bridal veil bordered by female family portraits. The piece speaks to enforcing a stronghold on the family group, especially the women.
For Full Statement click
here
To scroll through click to the right of image